Our History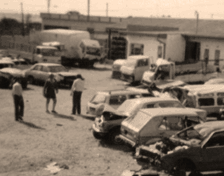 From a small beginning Gerrit Pieterse the present owner started a business with a partner in 1986. A loan was made and after 3 years he bought his partner out. He then purchased the current property, more equipment and continued with the panel beating business.
NMS Auto Body Shop was established in 1989. The business has grown substantially in the past few years and has gained membership of RMI (Retail Motor Industry) and SAMBRA (South African Motor Builders Association) and carries a MSR (Major Repairer Grading).
Our Company
Our Company is structured around processes. Our production facility in Polokwane consists of two teams more than equipped to ensure superior quality and customer satisfaction. Recently we saw a huge gap in the market for minor repairs and touch ups catering entirely on customers that can't allow for any downtime on their vehicles. Thus the Speedshop concept was born.
Our Clients
Our existing clients consist of; ABSA Insurance, Outsurance, Mutual & Federal, SA Eagle, Hollard, Santam, Regent, Pioneer Foods, Miway, I-assist, AMH Insurance, Avis car and van rental and Budget rent a car.

Our Admin Team
Our Admin Team, are highly trained with their main focus being customer care, they'll ensure consumer driven quality visitor experience. We strive to provide memorable and exciting experience that consistently exceeds expectations.
The Speedshop
The Speedshop specializes in services such as minor cosmetic repairs, paintless dent removals and hail damage. The services consist of bumper repairs, parts replacement, dent removal and paint touch-ups. We will offer customers with a fast turnaround time usually not more than 24 hours.