The workshop team leaders are highly competent and have years of experience in the panel beating industry.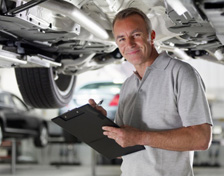 The workforce of 38 employees is made up of 4 qualified panel beaters and 1 qualified spray painter, the rest of the workforce range from administration to workshop assistants.
All staff members enjoy on-going in-house Technical training and we have successfully recruited and trained a number of staff, over and above the existing staff structure that are today successful in managing their own business. In our latest incentive we have recruited deaf people and they are currently apprentices in our workshop.
Emergency Towing is responsible for the collection of all vehicles. They aremembers of the Automobile Association and offer a 24hour service in the Limpopo Province. They also tow for Europe Assist, SOS, Assist24, Fist accident Management, CLC and One call assist.
Equipment
Whilst keeping in mind the developments within the industry, NMS Auto Body ensures that the equipment used are kept up to date with modern trends, we currently have:
3 Spray booth ovens
New water based paint
Infrared system
AER-O-PREP Centralized Dry flatting Vacuum System
AER-O-BENCH Chassis Straightening System
Vegamax Bench Chassis Straightening System
Hurricane W-1000 Chassis Bench
JOHN BEAN Wheel Alignment System
Air Con Re-gas system
Spanesi Touch Measuring System
Gas Mig Welder
FAN Multi-worker Spot Welder
Electron MX4900 Spot Welder
5x Co2 Welders